Manufacturing Products, Building Lives
Among gently sloping farmland in east-central Iowa lies a distinctive community called the Amana Colonies. Comprised of seven villages on 26,000 acres, the villages were built and settled by German Pietists who were persecuted in their homeland and sought refuge in the United States in 1856. They lived a secluded and communal life until the 1930s, when the Great Depression forced the Amanians to open up to the outside world, an event known as "The Great Change."
Today, their buildings and businesses still stand as a testament to those religious refugees, open to tourists who want an authentic German meal at one of the restaurants, or to sample craft goods, antiques or meats and cheeses from the various shops.
Amana Refrigeration was one business that emerged after "The Great Change," eventually being purchased by Raytheon, then Maytag, and finally acquired by Whirlpool Corporation in 2006.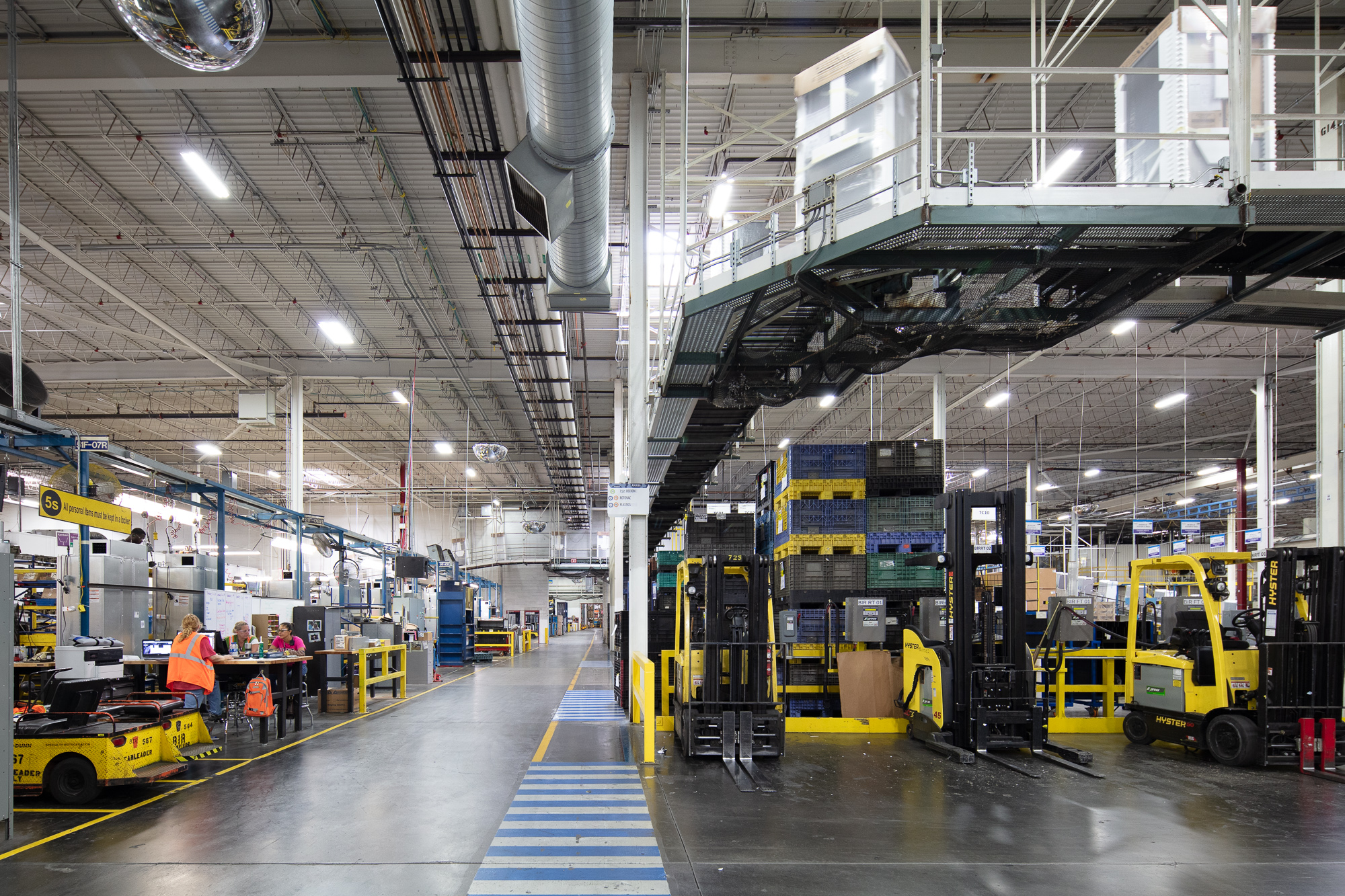 Just as the self-sustaining craftsmen and women of the Amana Colonies handed down their skills from generation to generation, so too, do the people of Whirlpool Corporation's Amana plant, producing innovative refrigerators for a number of the company's brands for decades.
One such person is Production Specialist Rick Raue, who has worked there for 26 years. His wife also works there as an inspector. When they aren't handling their duties on the plant floor, one activity the couple enjoys is volunteering at Ronald McDonald House serving meals.
"We thought it would be a really nice way to give back to the community," says Raue. The two also help with gathering money and buying Christmas presents for the Hawkeye Area Community Action Program (HACAP).
Raue has experienced the evolution of the plant over the years. "We've seen a lot of new technology come in. We have robots now where we used to do things manually, and we have other machines that have added more automation to the process."
A love for the work he does and the people has kept him there. "We have such a diverse workforce that we get to interact with people from other countries and other cultures, which makes the work really interesting. We're fortunate enough to have some of the greatest people in the world who work at this plant."
One of those people is Juma Shabani, a 14-year veteran of the plant who came to the U.S. from the Republic of the Congo, which was embroiled in war. He worked his way up to a supervisor position and built his life in Amana.
"I came here and l learned English from classes, and took some college courses with the help of Whirlpool," says Shabani. "Then I got married and had children (four of them) and I've been very busy with them. I'd like to return to school eventually."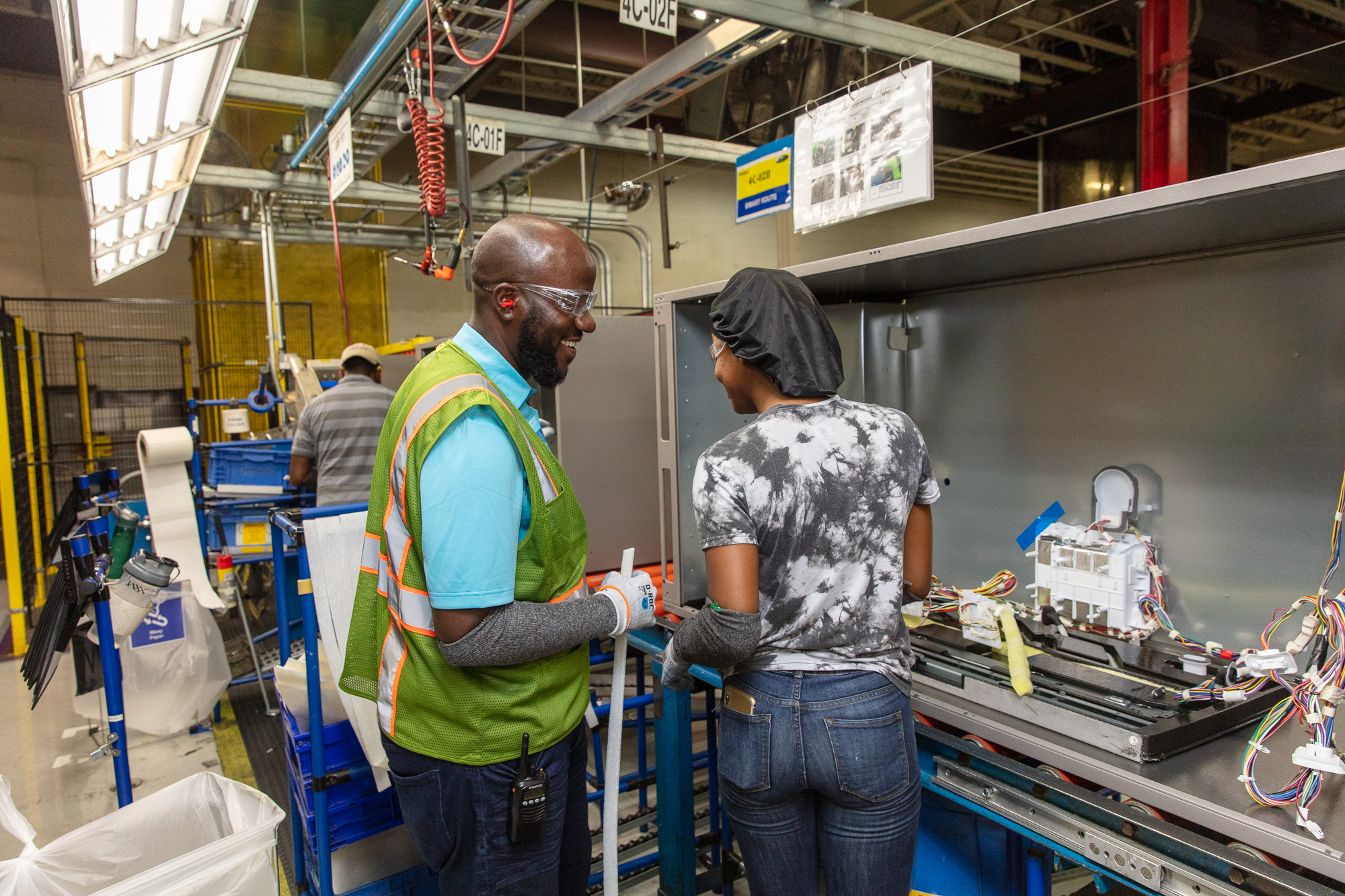 He says there is a growing population at the plant of people coming from Africa, as well as from other countries. "They like to come here because it's very peaceful," Shabani says. "There's not a lot of crime, and life is easier than in the big cities, and there are lots of jobs. It's a nice place to raise a family."
When he isn't working or spending time with his family, he coaches and referees soccer in the local community, all the way up to the high school and college levels. "It's fun for me. I like to watch the kids play and see how they improve, and teach them the game."
Another employee who came to Amana, Iowa in search of a better life is supervisor Rasvita Hrustanovic. "I fled to the U.S. from Bosnia with nothing but two luggage bags and $350," she says.
Her former farm and home are now burned to the ground, but today, she has built a new life. Hrustanovic owns her own home near Czech Village in Cedar Rapids and works hard to provide a better future than she had for her teenage son, while instilling in him her own hard work ethic.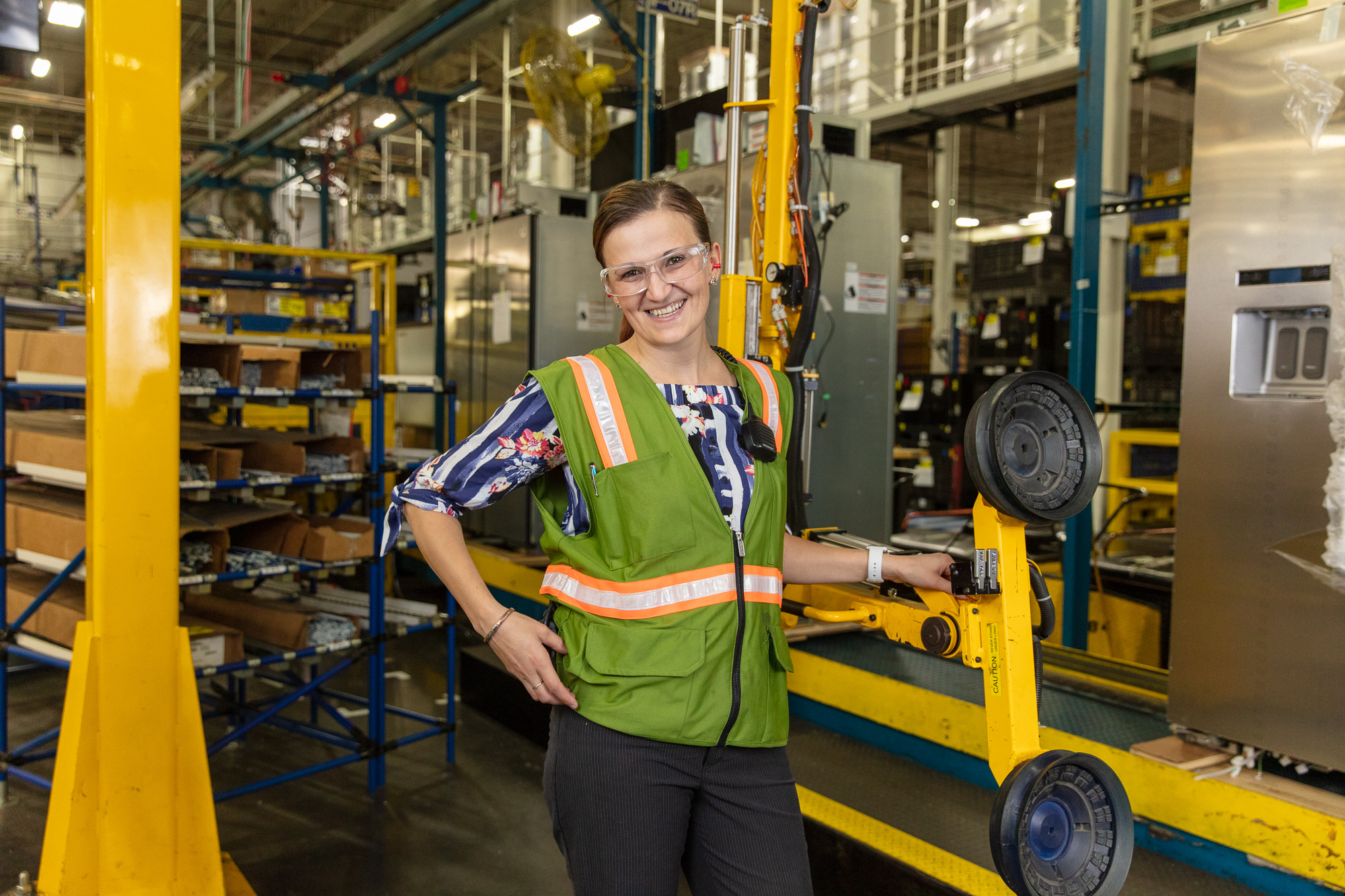 "Back in 1995 my father was killed in the war and my mom was suddenly a single parent. There were six of us children—I have four brothers and a sister—so she decided to move somewhere safe and give us a better life."
Most of her family now lives in Waterloo Iowa, within 75 miles of Amana, with one sister in nearby Cedar Rapids.
Rasvita started as an assembler at the plant, knowing very little English, and was a floater for several years before becoming a team leader and eventually landing in her current role. She tries to help others like herself by getting them into English classes and encouraging them to grow within the plant.
"We came to the U.S. because everyone told us it was safe and you could pretty much accomplish anything you want here," Hrustanovic says. "It's like a dream come true for me. I had my son who was a baby and realized that I needed a serious job that could bring a good income and have a future. After two weeks my supervisor came to me and I was offered a full time position. I've just stayed here and continued to grow."
She summed up a feeling that several other Amana employees also express. "Bringing a good income home and knowing that you have a good job that you are comfortable in and you love what you do—and trying to make other people successful the same way they helped to make you successful—it feels great to come to work every day."